We continue our article on the visit to Vinoble Vejle, who invited none other than Claudio Lenotti from Cantine Lenotti – the producer of 22 different kinds of wines, where Vinoble have 10 of the wines in their assortment. If you have not already read the first part of Lenottis visit in Vejle, which consist of wine tasting, storytelling, knowledge of wine and many other nice things, so hurry up and read it. You get 5 bids for cheap and good quality wines.
In the second and final part we taste the little better (and more expensive) part of Vinobles Lenotti assortment. Here we're talking both Ripasso, Super Veneto and Amarone!
Happy reading!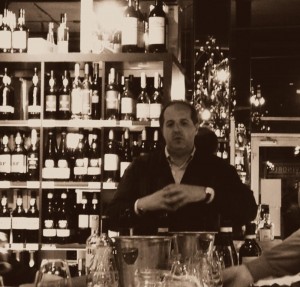 2009 Ripasso Le Crosare
I have  previously reviewed this Ripasso in a post with the title "A Ripasso to 129 kr?" (Danish post). It tasted as good as last time I tasted it, and you get very Ripasso for the money. I think that you should read the review to get the whole experience, and not to repeat myself I'll just write that it is certainly worth the money. A dry flavor with prunes and berries, and a scent of almond, dried spices, pepper and dark berries.
Price: 139 dkk
Rating: 8/10 – good buy!
2009 Massimo
This wine is marketed as Lenotti's flagship (in addition to their Amaroner), so I was very excited to taste this. It is creamy with a slight odor. The taste is distinctly berries, acid and tannins. A very competent and balanced wine. In fact, tonight's best wine. We have previously reviewed this wine, and it clearly shows that if Tuscany has Super Toscans, so this must be a Super Veneto.
Price: 150 dkk
Rating: 8/10 – best wine!
2007 Amarone Classico
Now it's time for the heavy wines on the table. This Amarone has powerful bold fruit, tannins and much sweet and delicate taste of prunes. Chocolate flavor is somewhat anonymous. Overall, a very good Amarone, who have the right qualities. I would, however, like to see more balance between sweetness and acid.
Price: 285 dkk
Rating: 7/10
2007 Amarone Di Carlo
Here come a a big Amarone! The price is also moved a piece up on the scale, and in return you get a smoky taste of chocolate, dark berries and rubber. A bold, intense and very balanced flavor and structure, showing that this is really a delicious mouthful for Amarone lovers. This is how a real Amarone should taste!
Price: 375 dkk
Rating: 8/10
2010 ReCioto
We end the evening with a sweet dessert wine that complements a good evening. It has a perfect sweet and spicy taste and would be perfect for dessert. Try serving this as the end of a good dinner or pour it on the rice à l'impératrice.
Pris: 172 dkk
Rating: 8/10
I've now reviewed 10 of Lenottis wines from the inexpensive everyday wine to the good Amarone. It was clear to taste the difference between the cheap, the medium and expensive wines. And so it should be. I also think that the common thread through all wines was that they produced to be enjoyed. They were not sophisticated nor were they meant for a deeper analysis – most should be drunk within a few years. And it is Italian wine at its best.
If I had to identify a few that made it extraordinary then it must surely be ReCioto and Massimo. The dessert wine did exceptionally well and will be perfect for rice à l'impératrice. It had the perfect sweetness without being too sweet. A great experience! Tonight's absolute best wine was Massimo. A delicious creamy texture with perfectly balanced berry and spicy flavors.
I was excited to taste the Amarones but since I'm not particularly crazy about these bombastic wines, I was not simply at the same level as with Massimo. However, it should be mentioned that especially Amarone Di Carlo outperform the cheaper Amaroner you can find on offer in almost all stores. Without doubt you need to be in this price range to get the well known taste.
It was a great experience to taste these wines with the producer, where one was introduced for production and the ideas behind these 10 bottles. There were asked a lot of good questions, and it gave a much greater understanding of the flavor.