Vinoble Vejle got an opportunity to receive a visit from winemaker Claudio Lenotti from Cantine Lenotti to a review of 10 of his wines from Vinoble's selection. This resulted in a visit by 20 guests who listened to his stories, asked questions about the production and asked him about his taste.
Claudio Lenotti is a third part of Cantine Lenotti, which is being managed by Claudio Lenotti and his parents, Giancarlo and Marina. The company started in 1906 with producing Bardolino Classico and as time went on, the company was large enough to improve the quality, which was chosen in 1968 to sell high quality wine at a fair price. Since then, the winery expanded facilities and modernized production, so that today is a modern wine production, which is at the forefront.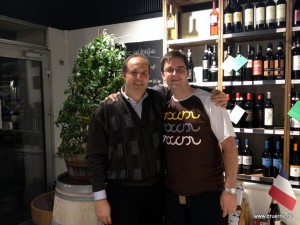 druerne.dk sent Kim to go to this event since Brian (but would have loved these Italian wines) were on vacation. Perhaps he should have canceled the vacation because it was a very exciting evening with more surprises and even a chat with the manufacturer.
We have chosen to share the tasting in two post and in this post you will be convinced that Lenotti certainly produce competitive wines in both white and red.
We tasted our way though:
2011 Colle dei Tigli
The first glass of wine is the entry level wine and a true woman pleaser. A wine made from Cortese and Garganega, which are two local grapes from the area near Lake Garda. With a clear light golden color and aroma of sweet apples, hay and asparagus and a light acidity. It is easy-drinking and very pleasing. Do you enjoy wine and would like to be challenged, this lacks acid to offset the sweetness. There are 10 to 11 grams of residual sugar which is a relatively high proportion.
Price: 65 dkk
Rating: 4/10
2011 Soave Classico Capo Colle
The second and final white wine is more challenging, and contains "only" 6.5 grams of residual sugar. Very normal amount compared to other white wines, but compared to the previous wine, it is very small. It is also very evident in both aroma and flavor. The color is a little more clear, less sweetness in aroma and taste, good share of minerality and more acid than the previous one. It fits very well with food, which also was Claudio's recommendation.
Price: 72 dkk
Rating: 5/10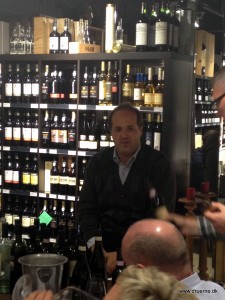 2011 Rosso Passo
We start at the line of red wines with this easy Rosso Passo. It was also the first wine I tasted from Cantine Lenotti several years ago. I remember the wine at that time was on offer for 65 dkk, so the price has not increased which is very positive for you as a consumer. The wine is bright, light and thin with dark scent of caramel and ginger. A good entry level and easy to serve on the terrace. It is made of 50% Merlot and 50% Sangiovese which indeed is Italy's national grape.
Price: 65 dkk
Rating: 4/10
2010 Capomastro
We rise slightly in price and it is also evident in the taste. This Capomastro offers a darker core than Rosso Passo, a beautiful and elegant color with a slightly creamy scent of almond and a bold scent. It is made of 50% Corvina, 50% Rebo (a cross between grape Marzemino and Merlot). It tastes more of fruit than the previous wine, and the minerality is similar to granite. The acid and sweetness is well balanced, and the wine seems very competent. Enjoy the wine a night on the sofa or armchair and it is consumed faster than you realize.
Price: 88 dkk
Rating: 5/10
2009 Bardolino Superiore Le Olle
This dark wine has Cantine Lenotti produced in 16 years, and it was met with positive buzz around the tables this evening. There are clear dark berries in both aroma and flavor. It has the qualities to be a "meat wine"; dark and elegant taste of berries, liquorice and prunes.
Price: 119 dkk
Rating: 6/10 – good purchase!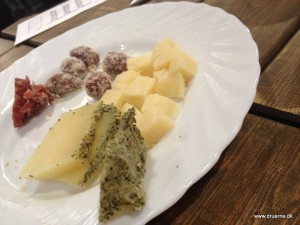 You are now presented with Lenottis 5 competitive wines. I was surprised at how much Italian flavor and finesse you get for a few bucks, and if you buy Lenottis wine in a wine shop, you'll also go home with the right type. In the next post we begin to taste the real fun wines that surprise alot. So look forward to both the Veneto wine, Ripasso and Amarone!